examples of descriptive writing
Winter hit like a welterweight that year, a jabbing cold you thought you could stand until the wind rose up and dropped you to the canvas.
"It was a cold grey day in late November. The weather had changed overnight, when a backing wind brought a granite sky and a mizzling rain with it, and although it was now only a little after two o'clock in the afternoon the pallor of a winter evening seemed to have closed upon the hills, cloaking them in mist."
Descriptive essays are a powerful way to communicate an experience you've had or illustrate a subject in which you have expertise. Whether you plan to write a personal, subjective account or a more rigorous description of a given subject, these descriptive essay examples will guide you to success.
Hymenopus coronatus is an example of a unique form of beauty that exists only in nature, careless of human judgment, designed for function rather than form, but still capable of making an observer catch their breath at its strange loveliness.
"It turned out, a few days later, that there were 100 people just like me. When I showed up at a local school for rehearsal, there they were: five decades worth of former students. There were doctors and accountants, engineers and college professors. There were people who hadn't played in decades, sitting alongside professionals like Mr. K.'s daughter Melanie, now a violinist with the Chicago Symphony Orchestra. There were generations of music teachers."
A description could be just a paragraph, or it could be longer, as needed to fully describe the thing. However, a descriptive essay has five paragraphs. It is written in a coherent way with a good thesis statement at the end of the introduction, three body paragraphs, and a conclusion.

The writer here focuses less on the physical appearance of her pet than on the cat's habits and actions. Notice how many different descriptors go into just the sentence about how the cat walks: emotions of pride and disdain and the extended metaphor of the dancer, including the phrases the "dance of disdain," "grace," and "ballet dancer." When you want to portray something through the use of a metaphor, make sure you are consistent, that all the descriptors make sense with that one metaphor. Don't use two different metaphors to describe the same thing, because that makes the image you're trying to portray awkward and convoluted. The consistency adds emphasis and depth to the description.
"Once in a long while, four times so far for me, my mother brings out the metal tube that holds her medical diploma. On the tube are gold circles crossed with seven red lines each―"joy" ideographs in abstract. There are also little flowers that look like gears for a gold machine. According to the scraps of labels with Chinese and American addresses, stamps, and postmarks, the family airmailed the can from Hong Kong in 1950. It got crushed in the middle, and whoever tried to peel the labels off stopped because the red and gold paint came off too, leaving silver scratches that rust. Somebody tried to pry the end off before discovering that the tube falls apart. When I open it, the smell of China flies out, a thousand-year-old bat flying heavy-headed out of the Chinese caverns where bats are as white as dust, a smell that comes from long ago, far back in the brain."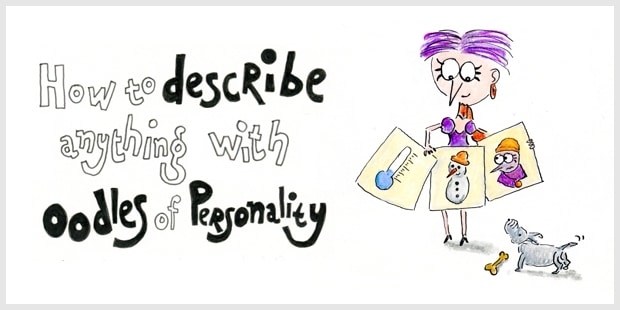 The theory sounds good. But Helen feels stuck. How does she describe her coaching offer with more flair?
No matter what service you supply, it's easy to think your clients know what you do.
References:
http://examples.yourdictionary.com/descriptive-essay-examples.html
http://literarydevices.net/descriptive-essay/
http://www.thoughtco.com/model-descriptive-paragraphs-1690573
http://www.enchantingmarketing.com/descriptive-writing/
http://examples.yourdictionary.com/descriptive-essay-examples.html