good descriptive writing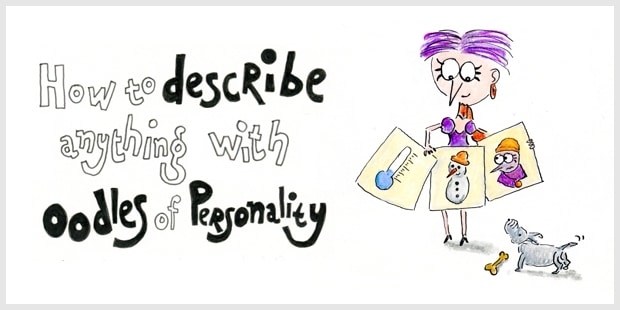 The only mattress that intelligently adapts to the human body for mind-blowing, personalized comfort. Translation: Wake up every morning with your happy face on.
The copywriters at Innocent know this, and they turn drinking a smoothie with pineapples, bananas and coconut into a sunny, sensory experience:
The sunset filled the sky with a deep red flame, setting the clouds ablaze.
Winter hit like a welterweight that year, a jabbing cold you thought you could stand until the wind rose up and dropped you to the canvas.

The writer here focuses less on the physical appearance of her pet than on the cat's habits and actions. Notice how many different descriptors go into just the sentence about how the cat walks: emotions of pride and disdain and the extended metaphor of the dancer, including the phrases the "dance of disdain," "grace," and "ballet dancer." When you want to portray something through the use of a metaphor, make sure you are consistent, that all the descriptors make sense with that one metaphor. Don't use two different metaphors to describe the same thing, because that makes the image you're trying to portray awkward and convoluted. The consistency adds emphasis and depth to the description.
"Gregory is my beautiful gray Persian cat. He walks with pride and grace, performing a dance of disdain as he slowly lifts and lowers each paw with the delicacy of a ballet dancer. His pride, however, does not extend to his appearance, for he spends most of his time indoors watching television and growing fat. He enjoys TV commercials, especially those for Meow Mix and 9 Lives. His familiarity with cat food commercials has led him to reject generic brands of cat food in favor of only the most expensive brands. Gregory is as finicky about visitors as he is about what he eats, befriending some and repelling others. He may snuggle up against your ankle, begging to be petted, or he may imitate a skunk and stain your favorite trousers. Gregory does not do this to establish his territory, as many cat experts think, but to humiliate me because he is jealous of my friends. After my guests have fled, I look at the old fleabag snoozing and smiling to himself in front of the television set, and I have to forgive him for his obnoxious, but endearing, habits."

A little goes a long way!
If a simile is the poor cousin of a metaphor, why not ditch them altogether and use only metaphors? For the simple reason that a metaphor in the wrong place can stand out awkwardly, like a man wearing black tie to a cheap burger bar.

Writing in science gives students an opportunity to describe observations and scientific phenomena, and can help them comprehend new material by having to explain it in their own words. Fazio and Gallagher propose two instructional strategies to assist teachers and student when writing in science: a mnemonic acronym (POWER) and an editing checklist.
Develop descriptive writing skill through modeling and the sharing of quality literature full of descriptive writing.
Include lessons such as the ones listed below throughout the year.
Call students' attention to interesting, descriptive word choices in classroom writing.
References:
http://examples.yourdictionary.com/descriptive-text-examples.html
http://www.thoughtco.com/model-descriptive-paragraphs-1690573
http://www.novel-writing-help.com/descriptive-writing.html
http://www.readingrockets.org/strategies/descriptive_writing
http://www.readingrockets.org/strategies/descriptive_writing